By JILLIAN DUCHNOWSKI – jduchnowski@nwherald.com
June 16, 2009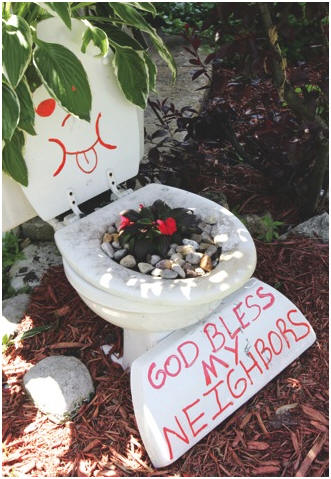 Sandy Bressner — sbressner@nwherald.com Tina Asmus has been at the center of controversy in her Lakemoor neighborhood for displaying planters made out of recycled toilets in her front yard. Asmus has hired an attorney. (Sandy Bressner (Photographer))
LAKEMOOR – A Lakemoor woman is prepared to defend her potty planters in court if the village fines her under a nuisance ordinance.
On May 29, the village gave Tina Asmus 30 days to clear out two old toilets that she used as flower pots near her front porch before citing her under the "Public Nuisances Affecting Peace and Safety" ordinance. Asmus hired an attorney last week, but village leaders said Monday that they didn't plan to back down.
"I understand that everyone doesn't share my taste," Asmus said. "But it's my property, and I pay taxes on it, so I should be able to display what I want in it."
Village President Todd Weihofen said the warning was among more than 100 sent out as part of a larger effort to improve the village's image. Other warnings involved junk vehicles and boats left in yards and tall grass.
"Most people are complying," Weihofen said. "They were given a 30-days warning. We were trying to be as decent as we could to give everyone a fair chance."
But if Asmus' toilet planters are displayed at 134 S. Highland Drive come June 29, she'll be ticketed between $25 and $500.
"We're trying to clean up our image and get our town to move ahead," Weihofen said. "We're an incorporated village."
Asmus said she had no plans to change what she considered artwork, and her attorney, George Kililis, said they planned to challenge the ordinance's constitutionality because it was vague and too broad.
"Our position is clear," Kililis said. "She is violating no ordinance whatsoever."
The ordinance prohibits junk cars and "any other vehicles, machinery, implements, and/or equipment and personal property of any kind which is no longer safely usable for the purpose for which it was manufactured."
If such a challenge is successful, Weihofen said the village would write and pass another ordinance.